October 2007 Revish Newsletter
Welcome to the first edition of our new-look newsletter. With the winter months approaching we're going to be concentrating on bringing you news of the best reviews on Revish, the high quality books we've got available, for free, for you to read and review, and the new features we've got in store for the site.
In this issue:
Canongate books available for review
We're absolutely delighted to offer 3 new books from Scottish publisher Canongate to UK-based Revish reviewers this month. The books form part of a series called The Myths, a re-telling of myths and legends by modern authors, and are due for publication in November. We've got 2 copies of each book up for grabs, so if you're interested in receiving a copy of any of them to read and review please email team@revish.com or send a message through Revish to danchamp.
Where Three Roads Meet by Salley Vickers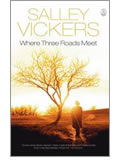 It is 1938 and Sigmund Freud, suffering from the debilitating effects of cancer, has been permitted by the Nazis to leave Vienna. He seeks refuge in England, taking up residence in the house in Hampstead in which he will die only fifteen months later. But his last months are made vivid by the arrival of a stranger, who comes and goes according to Freud's state of health. Who is the mysterious visitor and why has he come to tell the famed proponent of the Oedipus complex his strange story?
Set partly in pre-war London and partly in Ancient Greece, WHERE THREE ROADS MEET is as brilliantly compelling as it is moving. Former psychoanalyst and acclaimed novelist Salley Vickers revisits a crime committed long ago which still has disturbing reverberations for us all.
Read more about Where Three Roads Meet at the Canongate site
Girl Meets Boy by Ali Smith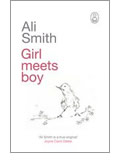 Girl meets boy. It's a story as old as time. But what happens when an old story meets a brand new set of circumstances?
Ali Smith's re-mix of Ovid's most joyful metamorphosis is a story about the kind of fluidity that can't be bottled and sold.
It is about girls and boys, girls and girls, love and transformation, a story of puns and doubles, reversals and revelations.
Funny and fresh, poetic and political, Girl meets Boy is a myth of metamorphosis for the modern world.
Read more about Girl Meets Boy at the Canongate site
Binu and the Great Wall by Su Tong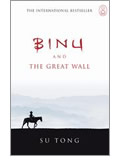 In Peach village, crying is forbidden. But as a child, Binu never learnt to hide her tears. Shunned by the villagers, she faced a bleak future, until she met Qiliang, an orphan who offered her his hand in marriage.
Then one day Qiliang disappears. Binu learns that he has been transported hundreds of miles and forced to labour on a project of terrifying ambition and scale - the building of the Great Wall.
Binu is determined to find and save her husband. Inspired by her love, she sets out on an extraordinary journey towards Great Swallow mountain, with only a blind frog for company. What follows is an unforgettable story of passion, hardship and magical adventure.
Read more about Binu and the Great Wall at the Canongate site
New API methods
We've recently added three new methods to the Revish API:
getReadingList - provides details of the books in a user's reading list
getReadingHistory - provides details of the books in a user's reading history
getToBeReadList - provides details of the books in a user's TBR list
Full details of the new methods can be found on the Revish API page, and next month we'll be including some examples of sites making use of them, and some tips for non-techies on how to use the API.
October review of the month competition
It's been a wee while since we last ran a review of the month competition, so we thought it was about time to do it all again. We'll be reading every review posted during the month of October, picking the best (in the humble opinion of a discerning panel of judges) and sending some nice prizes to the reviewers who wrote them. All you have to do to enter is post an original review to Revish in the next 31 days, so get reading and writing.
In the pipeline
After something of a hiatus we're back in the saddle at Revish and will be introducing a few new features and bringing exciting news from the biggest names in publishing in the coming weeks and months. As ever if there's anything you'd like to see at Revish that isn't already on the site please let us know, we're always listening.
We'll be integrating information from BookMooch into book and review pages, so those moochers among you will be able to see at a glance if there are any copies available to mooch. We're totally addicted to BookMooch here, it's an absolutely brilliant way of getting value from your unwanted books, and if you haven't tried the site before we'd highly recommend heading over there to take a look. It's at www.bookmooch.com
Coming soon will be Revish publisher pages, so you can get more information about the publishers behind the books, and browse a publisher's titles on Revish for new reading material.
Finally we've got a treat in store for Terry Pratchett fans next month. Can't say any more than that just yet.
Happy reading!
The Revish Team