November 2007 Revish Newsletter
Welcome to the second edition of our newsletter. This month we've got our first two interviews, a pile of books available for review, news of two new features on Revish and the promise of a competition for you Terry Pratchett fans.
In this issue:
Lynn Brittney interview - Christine Kringle
Due for release in November 2007, Christine Kringle looks set to become a new favourite for christmas. We caught up with the book's author, Lynn Brittney, to ask her a few questions just before the book was due to be published.
Read our interview with Lynn Brittney
Stacie Hanes interview - An Unofficial Companion to the Novels of Terry Pratchett
Stacie Hanes has a long association with the work of Terry Pratchett, with published essays including "Terry Pratchett: Guilty of Literature" and "Not-So-Modest Proposals: The Satiric Reality of Samuel Vimes and the Ankh-Morpork City Watch". Mel Pedley quizzed Stacey about her most recent work, the contribution of 7 pieces to Andrew M. Butler's latest book "An Unofficial Companion to the Novels of Terry Pratchett" due for publication in early 2008.
Read our interview with Stacie Hanes
Available for review
We've got copies of three books available for review this month. If you're interested in receiving a copy of any of these titles to read and review please email team@revish.com and we'll arrange to have a copy delivered to you. All you have to do is read the book and review it on Revish - all books are yours to keep!
Christine Kringle by Lynn Brittney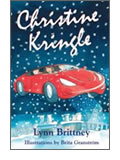 According to the Yule Dynasty rules, the job of a country's Christmas Gift Bringer has to be handed down from father to son. But Kriss Kringle of the USA only has a daughter - fourteen year old Christine. Ma and Pa Kringle think it's time the rules were changed but, before they can resolve the issue at the Yule Annual Conference, disaster strikes! A town in England decides to ban Christmas!
Could this be an opportunity for Christine Kringle to show the Yule Dynasty what she's made of? With a little help from some new friends, a lot of Christmas spirit and a borrowed Ferrari, she sets off to save Christmas from extinction...
Read more at the Christine Kringle website
Legend of the Last Vikings - Taklamakan by John Halsted
As the Viking age is brought to an end in 1066 with ignominious defeat at the battle of Stamford Bridge, a rag-tag group of Vikings decide to "go a Viking" one last time. But where will their journey lead them?
Retracing a journey of their youth down the mighty Dniepr to Byzantium, a chance discovery in a Kiev library leads them to venture even further afield - to Astrakhan, across the Caspian sea, up the mighty Oxus river, through Parthia and Bactria and along the ancient Silk Route into Asia and Tian Xia.
After inflicting fatalities on the sinister and evil Black Scorpions in battle, pursued, they flee by night across the roof of the world and meet the remnants of the "lost" European tribe of Asia, the Hepthalites, who offer them protection in their city, hidden in the Tien Shan - the Celestial Mountains.
Gathering more clues, they continue with their quest, on into the Taklamakan desert. The desert so called by locals because those who venture in seldom venture out.
What dangers and perils lie in wait for this rag-tag Viking crew as they travel along the world's first super-highway? But will they find what they're looking for?
Read more at the Lost Vikings website
The Second Virgin Birth by Tommy Taylor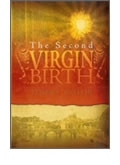 Dr. James Burk, an American forensic scientist, steals from the Vatican in Rome, Dr. Clark Sullivan, an English bio-engineer, steals from his university's lab in London, and Mary Carter, a six year-old girl from Alabama talks to God. These are the individuals that the Catholic Pope undertakes to have murdered. They are the most unlikely team ever conceived to bring the next Lord and Savior into this world.
The story traces Mary's life from being a happy little girl to her years of confinement in an insane Asylum to her finally evolving into the worlds next Madonna. Was she chosen by God for the second coming? The Pope thought so; Dr. Burk and Dr. Sullivan thought so; as did an entire army of faithful followers who gave their lives in defending the nine-month pregnant mother to be of the next living God.
BookMooch integration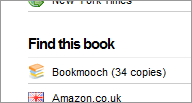 To make it easier for those of you who use BookMooch to mooch books featured and reviewed on Revish, we now show the number of copies available at BookMooch on book and review pages. In the "Find this book" menu you'll now see BookMooch listed, together with the number of copies of editions known to us of the book being viewed.
If you follow the link and BookMooch says there are no copies available, despite Revish showing copies available, just follow the "Related editions" link and you'll find the moochable editions. We're working with John at BookMooch to get a single view of all moochable copies.
Talking reviews with ReadSpeaker

Next time you read a review at Revish you'll probably notice a small media player we've added to the page. This is ReadSpeaker, text-to-speech technology that reads web pages to you. In testing we've found that many people prefer listening to reviews over reading them. You can also use the download link on the player to save an mp3 of the review for later listening.
If you'd prefer not to have the player displayed there's an option to turn it off in your user profile: just follow the link to your profile at the top of the page, edit and save it.
Next month - Terry Pratchett competition, publisher pages, videos and more
Next month we'll be bringing news of a competition to win copies of Andrew M. Butler's new book, An Unofficial Companion to the Novels of Terry Pratchett, launching our publisher pages, hooking up with TurnHere internet video and have many more books available for review.
Happy reading!
The Revish Team